SHAY & BLUE is known for its so-called 'boutique' approach. A 'boutique' approach means personal passion. It means care for detail and craftsmanship. It means that we work with our hands. That we work with the chosen ones - the skilled artisans and artists of the traditional refined perfume.
At SHAY & BLUE, the founder Dom De Vetta and perfumer Julie Massé have a vision to maintain the age-old and traditional craft of fine perfumery. A dedication to creating high quality perfumes together with a new generation of craftsmen.
SHAY & BLUE is looking for those men and women who have learned the long-term and traditional skills of working with real flowers, fruits and herbs. Those people who have carefully and quietly acquired their valuable experience.
In London-based expert craftsmen take care of the delivery of the precious distilled perfume oils from Grasse. In their perfume workshop in East London they mix the oils at the right temperature.
The mixtures are then left alone ... to mature for more than three months. For richness and depth of the perfume. When ready, the perfumes are carefully handled in the bottles of beautiful smoky blue.
Harvesting by hand. Weigh by hand. Distill by hand. With a level of passion, care and attention with which the mass production can not compete.
THE PEOPLE BEHIND SHAY AND BLUE
ABOUT DOM DE VETTA - founder and creative director
Dom De Vetta believes that a modern fragrance must "stand on the shoulders of giants." He has a vision to create a collection of fragrances with the richness and quality of belle époque perfumes, but which is also remarkably modern and desirable.
Dom founded Shay & Blue in London in 2012. He is a passionate seeker of the best talents in the perfume industry. He spent the greatest time of his illustrious career in creating high-quality perfumes; as Senior Vice President for Chanel where, together with Jacques Polge, Christopher Sheldrake and Karl Lagerfeld, he makes the boutique perfumes of the Les Exclusifs de Chanel collection. And as Global General Manager for Jo Malone London he created the new creative direction of the house after the departure of Jo Malone.
At the end of 2014 he won the prestigious Best Creative Director Award at the highly acclaimed Ca Fleure Bon Best of Scent Awards, which stated: "Dom De Vetta of Shay & Blue is our winner this year, for the use of his incredible olfactory knowledge and accumulated luxury business insight into creating one of the most imaginative and accessible new perfume houses in recent years Shay & Blue exudes charisma and style with imaginative and unique scents. "
Dom believes that now is the right time to establish a boutique group of talented individuals who will guard the flame and know-how of traditional fragrance creations. To preserve the technique of making high-quality perfumes for future generations.
ABOUT JULIE MASS - perfumer
Julie Massé is from a new generation of talents. A young perfumer with a flair to make perfumes with a refreshing dose full of modernity and originality based on the grand perfume chords. Dom's quest for a new "nose" with sophistication, character and warmth ended as soon as he discovered Julie.
Julie comes from a family coming from Grasse; to make the legendary home of the traditional perfume. Modern and internationally oriented, Julie has an impeccable background that has been trained by some of the greatest legends from the perfume industry, including Christine Nagel and Pierre Bourdon.
Dom believes that Julie, through her skill and instinct for contemporary perfumes, can be regarded as one of the future great perfumers of the twenty-first century.
PETA - People for the Ethical Treatment of Animals
SHAY & BLUE is now recognized by the renowned English PETA (People for the Ethical Treatment of Animals) as a Cruelty Free Company. This recognition means that the perfume house works in a completely animal-friendly way, something that is enormously valuable for today's conscious client.
WebwinkelKeur Klantenbeoordelingen
WEBWINKELKEURWIDGET
Offers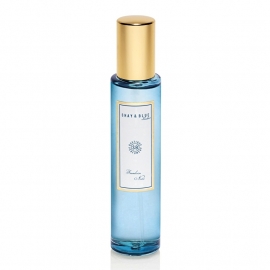 FRAMBOIS NOIR 30ML EDP
€ 45,00
€ 36,00