ACQUA DI GENOVA was created in 1853 for the Royal House of Savoia by the famous Genoese distiller and perfumer Stefano Frecceri, ACQUA DI GENOVA soon becomes a necessary dressing complement of every important person of the epoch and is used in all European Royal Courts. In those years even famous Statesmen who marked Italian history, such as King Vittorio Emanuele II, Count Camillo Benso of Cavour, Foreign Affairs Minister Costantino Nigra, do not hide their habit to use ACQUA DI GENOVA to enrich with a touch of distinction their public image. King Vittorio Emanuele II left in his will that by Royal Decree of 1866, Stefano Frecceri was entitled to use The Royal Arms of the House of Savoy on all of its products.
Virginia Oldoini, Countess of Castiglione, at the time considered the most beautiful woman in Europe and the maker of Italian fortunes, cannot give up ACQUA DI GENOVA and imposes the charm of this fragrance to the Emperor Napoleon III of France who becomes a habitual consumer of it being imitated by all French and European bourgeoisie.
ACQUA DI GENOVA is an ancient jewel of nineteenth-century taste, for whom is able to catch and appreciate the genuine once formulation and the refinement of a highest quality product, created for the king and his Royal house. An Eau de Cologne which, after 150 years, preserves unchanged its characteristics and keeps the original packing with hand-made bottles, crafted one by one still today. ACQUA DI GENOVA is today regarded as a classic example of a cologne, copied many times, but never equaled. It is still made in the family business on the basis of the best natural ingredients according to the original formula of Stefano Frecceri. Ensuring the high expectations for the quality still be maintained.
Besides the authentic cologne there can be found the beautiful Silver and Gold eau de parfum collection. A collection of a total of four eaux de parfum based on a rich contemporary flower and fruit bouquet.
As a tribute to the 150th anniversary of the house ACQUA DI GENOVA has developed the 1853 Collection, 1853 and 1853 Lady Men. This classic and powerful eaux de toilette are based on original recipes from Stefano Frecceri.
WebwinkelKeur Klantenbeoordelingen
WEBWINKELKEURWIDGET
Offers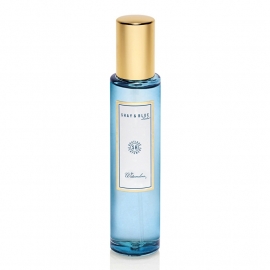 WATERMELONS 30ML EDP
€ 45,00
€ 36,00